Article by Michelle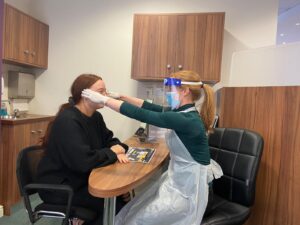 Is DW open during the Covid-19 Pandemic?
Yes, As of Wednesday 1st July all DW Roberts practices will be open and offering our full range of services.
Initially we will be working on an appointment only basis and may be working with a closed door policy. Please call before you come to see us.
What can I expect when I ring for a sight test appointment?
Initially we are booking appointments for patients who have contacted us during 'lockdown' with problems.
If you are booking a routine appointment you may be asked to be put on a waiting list.
If you are experiencing problems you will be asked for more details and then booked for a telephone consultation with the optometrist who will prioritise your needs.
What can I expect when I attend for my appointment?
We have introduced new protocols to keep patients and staff safe.
All staff in close contact with patients will be wearing PPE.
All equipment and frames handled will be sanitised between patients.
Extra time has been allocated between appointments to allow thorough disinfection and ventilation of consulting rooms.
Furniture has been moved or removed to enable social distancing.
We are asking patients to sanitise their hands on arrival and wear a suitable face covering.