Article by Michelle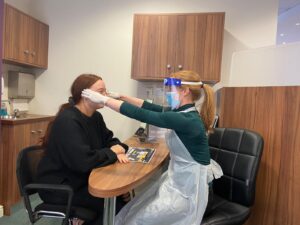 Is DW open during the Covid-19 Pandemic?
Yes, NHS England has suspended all routine eye examinations so we are open for essential eyecare services only.
At the moment we are operating behind closed doors. We have a small optical team responding to telephone calls and e-mails to all practices, along with website enquires.
Please call your practice on the numbers below and we will do our best to help you if:
you have broken or lost your glasses.
you are running out of contact lenses or solutions.
you need dry eye products or macular supplements.
you are at all worried about your eyes.
Please do not visit your practice.  Contact us on:
Bletchley: 01908 373131   bletchley@dwroberts.co.uk
Newport Pagnell: 01908 218121   newport@dwroberts.co.uk
Stony Stratford:  01908 562355   stony@dwroberts.co.uk
Towcester: 01327 350240   towcester@dwroberts.co.uk
Wolverton: 01908 313338   wolverton@dwroberts.co.uk
We will reopen when it is safe to do so.
When will  routine sight-tests recommence?
Routine sight-tests are currently suspended and we are waiting to hear more from NHS England so that we can plan when to re-open. We will update our website when we have more information.
How will you protect patients from Covid-19?
In line with Government advice, we are making some immediate changes to keep our patients and staff as safe as possible:
Practices will be disinfected every morning and throughout the day between appointments
Staff and patients will have their temperature taken with an infrared thermometer
Staff will wear PPE and use hand sanitiser at regular intervals
Equipment will be sterilised between each appointment
Cough screens will be in place where appropriate
Contact will be minimised as much as possible