Article by Michelle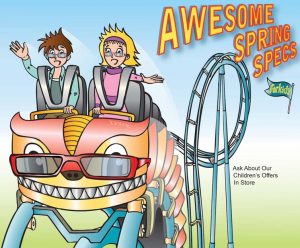 Active, sporty children?
Upgrade your child's lenses to safer, lighter, shock-resistant and UV protective PNX lenses from just £20. Please ask for more details.
Free Children's Frames and Lenses
Did you know the NHS provides a voucher to cover the full cost of uncoated CR39 single vision lenses and also a selected range of frames for children under the age of 16 (or under 19 if in full time education).
Free Second Pair for children's Frame Purchases of £50 or over
If you wish to purchase more than one pair of spectacles for your child, then, providing the total amount spent on spectacle frames is £50 or over, the NHS voucher will cover the cost of one pair of CR39 lenses and the second pair of CR39 lenses will be supplied FREE OF CHARGE by DW Roberts.
The lenses of the second pair of glasses can be tinted as sunglasses for an additional £16.00.
Please ask our staff for further information on our children's offers.